Accessible Solutions for Homes
Next Day Access offers a wide range of home accessibility solutions to help you age comfortably in your own home or recover from an injury or surgery. Our expertise and diverse product offerings are tailored to meet your unique needs, whether it's for indoor, outdoor, or on-the-go accessibility.
We provide seamless accessibility solutions through our sales, rentals, installations, and maintenance services.
We also extend our expertise to commercial applications, helping businesses and public spaces become more accessible.
About Next Day Access 
Customized accessibility solutions for your home
Durable, Code-Compliant Ramps & Lifts
We move Fast!
We keep the client's safety in mind as our top priority
All ramps are built within ADA guidelines.
Professional and caring staff
Trained on-staff technicians
Basic accessibility products can be installed Next Day!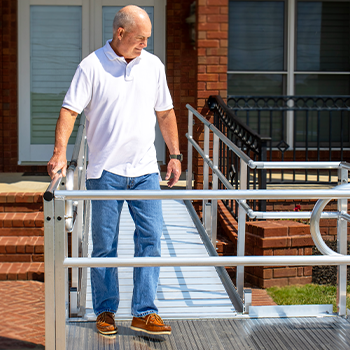 Common Accessibility Products for Homes:
Accessibility Product FAQs:
Do you offer accessibility product rental options?
Next Day Access is here when you need us, even if that need is temporary. Renting home accessibility products like a wheelchair ramp, a straight stair lift, or a portable patient lift is an option that may best suit your accessibility needs. We recommend rental when the desired access is for a short duration, such as having a guest in your home, a loved one with a temporary injury, or assistance accessing parts of your home.
How can I make my home more accessible?
To make your home more accessible for individuals with mobility needs, consider these key accessibility solutions:
Install ramps, widen doorways, and use swing-clear or off-set hinges.
Install grab bars, consider a roll-in shower or walk-in shower, and use non-slip bathroom flooring.
Adjust bed height, ensure space for mobility devices, and rearrange furniture.
 Consider outdoor accessibility and install ramps, porch lifts, or outdoor stairlifts for exits and entry.
Explore assistive technology and seek your local Next Day Access expert.
Remember to assess your home's layout and consult with Next Day Access certified local experts to ensure that your accessibility improvements meet your unique needs.
Home Access Installations